Description
Description:
The Mantis Tri-Rad Adult Folding Tricycle is a stylish option for those looking for a comfortable ride. The low-cut frame and parking brake makes for easy mounting and dismounting. Use the Mantis Tri-Rad Tricycle for rides through the park or neighborhood to catch some fresh air and sun. It features a large spring seat that provides a comfortable platform for both long and short rides. Add items to the large rear basket as you run errands or take your tricycle to the park with a picnic basket. This steel frame tricycle even has a folding frame to make storage easier when it's not in use. Use the bell or chain guard for added functionality and style.
Feature:
1. 20''size wheel: suitable for man ,woman,elderly people.
2. Frame/fork: folding steel frame with steel suspension fork, easy to storage.
3. Wheels/tires: aluminum rim with 20 x 1.75 inch white wall Kenda tires.
4. Drivetrain: single speed, one piece crank.
5. Brakes/Cockpit: front v-brake with parking brake, easy adjust steel stem, large comfort saddle.
6. A larger basket : carry things, more convenient for shopping.
7. Seat back : generously filled for extra comfort and softness.
8. No need fuel: environmentally-friendly and economical.
9. Adjustable handlebar: suitable for man and woman in different height.
10. Fenders on wheels: keep the tricycle clean.
11. Wheel Come with reflecting strip: provide a rider with the security to a greater degree even through ride in the evening.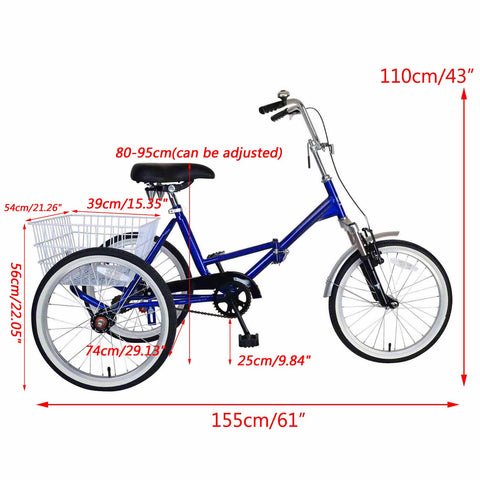 Specifications:
Age: Adult
Tricycle body Color: blue/gray
Basket Color:white
Assembled Product Weight:25.85kg
Folded dimensions of 35''L x 30''W x 31''D
Wheel Material:rustproof alloy
Spokes Material:stainless steel
Frame Material and Type:Aluminum Tricycle cruiser
Includes: Front fender, rear basket, parking brake, bell, chainguard.
Package Included:
1x Blue/Gray adult tricycle
1x Basket
Free Fast Shipping:
Item location: US, AU
Shipping To: US, AU
Delivery Time: 3-8 working days 

Warranty:
Returns: Return within 14 days after receipt of the product
24-hour expert online: Solve your installation and product problems
Delivery Time Guarantee:
1. 10% discount if the delivery time more than 5 working days
2. 20% discount if the delivery time more than 7 working days
(Discount can only be used for your next order)
Perfect for me, easy to install
The installation is simple and works well
Fast shipping and install is very easy.
It works fine,cheaply and good quality
Payment & Security
Your payment information is processed securely. We do not store credit card details nor have access to your credit card information.