Description
Features:
1: Spoke Magnesium wheels: lightweight and more durable.
2: Mens/womens bikes.
3: Fashionable and advanced Suspension.
4: Disc brakes-Mechanical.
5: The bicycle has been adjusted for shifting and braking before leaving the factory, and the disc brakes are automatically adapted. If the brakes are not tight, you can appropriately adjust the tension of the brake cable of the disc brake.
6: Easy to install, please consult customer service if you need installation instructions.
Specifications:
Color: Decals in paint
Type: 21 speed 27.5" mountain bike
Flywheel: 7 tower wheels
Propulsion mode: chain propulsion
Chain: 108 chain
Foot pedal: PVC foot pedal
Frame material: Aluminum Alloy
Tire: spoke wheel
Brakes: Polly dual disc brakes
Tire size: 27.5 inch and aluminum alloy double rims
Men's / Women's Height: 5'3"-6'3" 
Bearing Weight: 120kg max. 
Seat Distance: 30.32" min.-36.6" max. ( from the ground) 
Handle: 39" ( from the ground) 
Body length: 5'7"
Suspension Type: Front
Shifter Style: Thumb Shifter
Package Included:
1x Bike
1x Bike Lock
1x Air Pump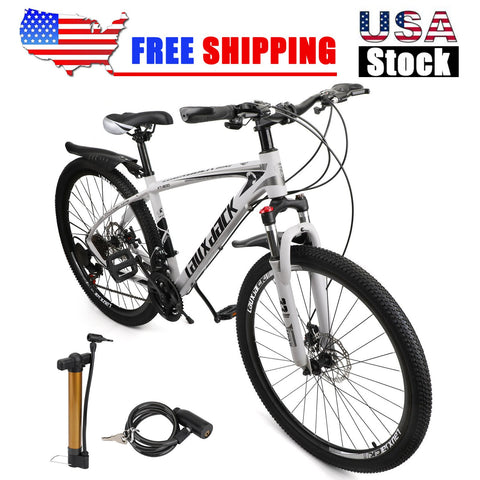 Shipping:
Free Shipping
Item location: Los Angeles, California warehouse
Delivery Time: 2-6 working days

Warranty:
Returns: Customers have the right to apply for a return within 60 days after the receipt of the product
24-Hour Expert Online: Solve your installation and product problems
Would recommend this
The bike arrived on time in three days. I'm looking for a cheap mountain bike, this bike is easy to assemble. I have owned this bike for 5 days and really enjoy riding it. Good quality and stable driving. So far, I have run more than 600 miles without any problems. Great bike, great value, I would recommend this bike to anyone.
Love it so much
My husband assembled this bike for his son, and he finished it before I knew it. When his son planned to assemble the mountain bike, he was surprised to find that the mountain bike was already assembled. All he has to do is to ride a bicycle, breathe in fresh air, and go on the road.
My husband did not encounter any major problems when assembling this bicycle; one minor problem was applying the brakes on the straight; however, when his son got home, he contacted customer service to find out how to fix it. The bicycle is well ridden and the gears move correctly; for this price, the bicycle is good. I only wrote a review after my son took the bicycle and used it for a few days. I'm sorry.
Fast Shipping
It come in good pack.The air pump is good. It is my first mountain bike. The price is worth it, highly recommend.
Perfect Bike for my son!
He loves everything about it and works well"
Payment & Security
Your payment information is processed securely. We do not store credit card details nor have access to your credit card information.