20'' 52CC Gasoline Chainsaw Cutting Wood Gas Sawing Aluminum Crankcase Chain Saw
Free Quick Shipping from California (Excluding HI, PR, & AK)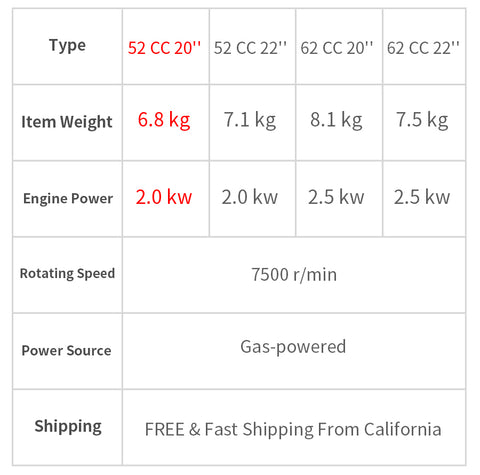 20'' 52CC Gasoline Chainsaw Cutting Wood Gas Sawing Aluminum Crankcase Chain Saw

Feature:
1:This aluminum gasoline chainsaw is ideal for cutting and felling.
2:It adopts the automatic brake system with wide designed front hand guard, which is able to reduce injury during operating.
3:The anti-kickback chain decreases the probability of kickback, which increases safety. In addition, it also can be used under extreme environment with long life due to aluminum solid protection.
4:It is also able to efficiently prevent the dust enter the engine by engine clean air-intake system. It also features with anti-vibration design, which allows you to use it easily.
5:The aluminum solid crankcase enables to withstand the high rotate speed. The electronic ignition with auto choke is easy for you to start it.

Specifics:
Condition: 100% Brand New
Engine: single cylinder, air cooler, 2-stroke
Power source: Gas
Fuel mixture ratio: 25(90#gasoline):1(2-cycle oil)
Chain oil: MOTOR Oil SAE # 10W-30
Rotating speed: 7500r/min
Spochet: 7T x 0.325
Saw chain type: K2

Displacement:52CC
Bar Length: 20"
Model: 52cc
Fuel tank capacity: 550ml
Oil tank capacity: 260ml
Engine displacement: 52CC
Engine displaceent: 52cm³
Engine power: 2.0kw
Maximum cutting length: 20"

NoteThere may be color errors between the picture and the real thing. I hope you can understand
Package Included:
As you choose