Description
Features:
1.230W projection lamp
2.0 to 4° beam angle
3.1 color wheel, 14 Colors + White, Single rotation rainbow effect.
4.Bi-directional rainbow effect, speed adjustable.
5.1 rotating gobo wheel, 17 rotating gobos + blank.
6.Different strobe speed effect 12 t/s, free and pulse.
7.Prism effect: eight prism (bi-directional rotation).
8.540°Pan movement, 270°Tilt movement.
9.Pan/Tilt scanning position correction function
10. 16-bit precision smooth Pan/Tilt rotation
11.Fast, quiet and precise Pan/Tilt positioning
12.Motor focus from near to far
13.LCD color display
14.16CH DMX512 channels
15.Automatic patter/sound activate/master-slave control DMX
16.Electronic ballasts and switching power supply
17.Mechanical dimmer
18. Large external temperature 104°F (40°C)
19. Fan cooling system
20.Eco-friendly, replaces far larger and more epxensive spotlights.
21.Stable Performance, high-performance electronics, Long Life.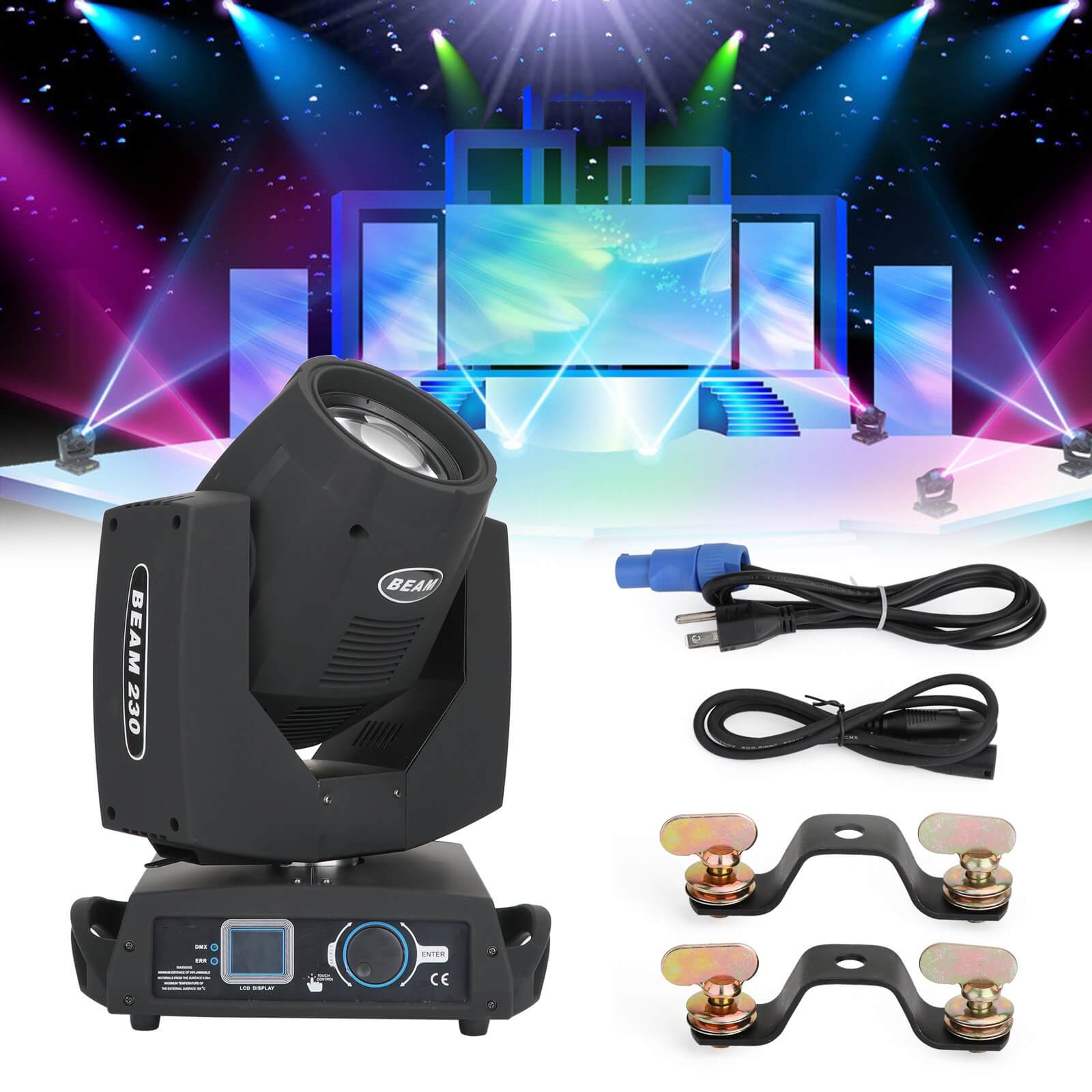 Specifics:
Power Consumption: 350W/400W
Input Voltage: AC 110V-240V, 50/60Hz
Plug: AU plug/ US Plug
Type: Spotlight - Beam/Pinspot
Lighting Effects: Beam & Pattern Gobo
Motion: Automated Pan & Tilt
Control: DMX
Lamp: 230W 7R
Color wheel: 14 colors + white
Reverse: horizontal / vertical
Description trimming (x / y-axis precision): 8 / 16bit
Level of 540 degree, vertical 270 degree, horizontal / vertical speed adjustable
Dmx 512 channel: 16ch
Strobe: 0-12 times / second
Dimmer: 0-100% linear adjustment
Prism: 8 facets - rotation
Beam angle (min.): 0 °
Beam angle (max.): 4 °
Control interface: Jog wheel
Fixed gobo wheel: 17 gobos, made of high temperature
Effect:pattern water effects / pattern jitter effect / linear rainbow effect
Operating modes: Automatic, Sound to Light, DMX-512, Master / Slave
Special functions: electronic focus, frost filter, electronic monitoring of error messages
Focus: independent electronic linear focus
Cooling system: built-in convection heat / air
Housing: ABS
Size: 33x30x51 cm
Package size: 42x47x58 cm
Weight: approx. 16.5 kg
Packaging weight: approx. 18 kg

CLEANING & MAINTENANCE
It is absolutely essential that the fixture is kept clean and that dust, dirt and smoke-fluid residues must not build up on or within the fixture.
Regular cleaning will not only ensure the maximum light-output, but will also allow the fixture to function reliably throughout its life.
A soft lint-free cloth moistened with any good glass cleaning fluid is recommended, under no circumstances should alcohol or solvents be used!

Package Included:
1x 230w moving head light
1x Control table line
1x Power line
2x Bracket
1x English manual

Shipping:
Free Shipping
Item location: Los Angeles Warehouse
Shipping Time: 2-6 Working Days

Warranty:
Returns: Customers have the right to apply for a return within 60 days after the receipt of the product
24-Hour Expert Online: Solve your installation and product problems

I am very happy with these lights. They are very cheap and provide very bright lights for my DJ setup. I would recommend these lights and this seller.
nice atmosphere
Really like it!!nice atmosphere
Great light. It's a beast for the price. Will definitely buy more.
This thing is fun. Had to try out the sound activate and worked quite well. Solid construction and amazing lighting distance. Working on waterproofing it to use for Halloween and Christmas.