Description
Features:
1: The 26" frame bike offers you a great ride with the added convenience of portability.
2: This streamline frame design is not just for mountains trails, its also great for students, office workers, urban environments, or any convenient commuting.
3: The bicycle has been adjusted for shifting and braking before leaving the factory, and the disc brakes are automatically adapted. If the brakes are not tight, you can appropriately adjust the tension of the brake cable of the disc brake.
4: Easy to install.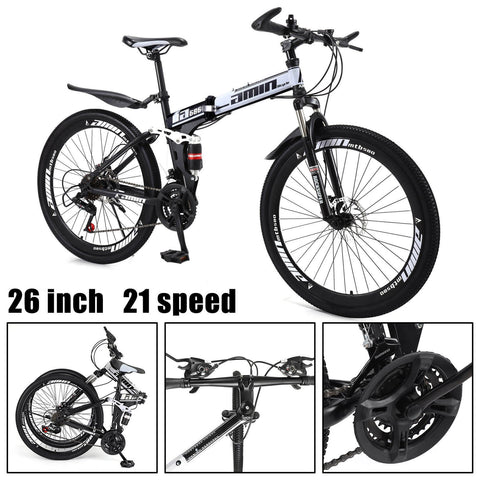 Specifications:
Color: Decals in paint
Type: 21 speed 26" folding bike
Frame size: 17 inches
Flywheel: 7 tower wheels
Propulsion mode: chain propulsion
Tire: spoke wheel
Frame material: high carbon steel
Brakes: Polly dual disc brakes
Tire size: 26"×2.125 aluminum alloy rims
Men's / Women's Height: 5'3"-6'3"
Weight: 100kg max.
Seat Distance: 30" min. -33.5" max. ( from the ground)
Handle: 37.4" ( from the ground)
Body length: 5'7"
Shifter Style: Thumb Shifter
Suspension Type: Full Suspension (Front & Rear)
Package Included:
1x Bike
1x Bike Lock
1x Air Pump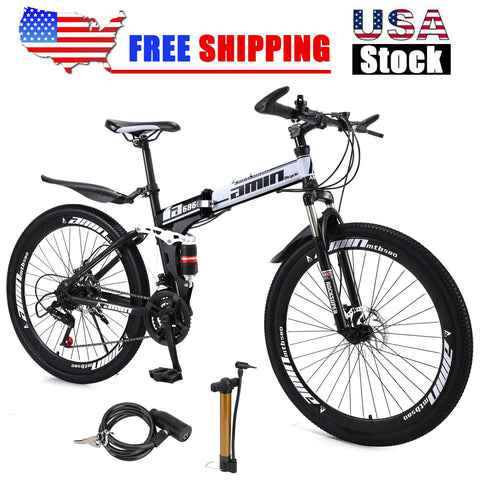 Shipping:
Free Shipping
Item location: Los Angeles Warehouse
Shipping Time: 2-6 Working Days

Warranty:
Returns: Customers have the right to apply for a return within 60 days after the receipt of the product
24-Hour Expert Online: Solve your installation and product problems
This is great. For months, I always wanted to buy a bicycle from other sellers, but finally gave up and bought this one. In 4 days! This bike is beautiful, strong and comfortable to ride. It folds well, and you would never expect it to be like this when riding on it. The gears are smooth and work well. I really like this bike, I think it's worth the money.
Well designed
All functions are good, and the bike itself is well designed. I like this bike very much. For this well-made product, it is very valuable. It is well packed, easy to transport, and has clear instructions. It only took me half an hour to assemble it.
Easy to install
Fast shipping and install is very easy."
Payment & Security
Your payment information is processed securely. We do not store credit card details nor have access to your credit card information.