Description
Features:
Direct replacement to your original unit
Plug-and-play, direct fit, easy installation.
Highest grade lamination materials.
Highest grade copper windings, resistant to 200 degrees Celsius.
Pick up pulsar coil included.
Connector included.
All products shipped are tested.
Specifics:
Condition: Aftermarket 100% Brand New
Quanity: 1PC
Type: Generator Stator Coil
Replacement Part Number: 1C6-H1410-00
Dimensions :
Interior diameter : 35mm / 1.37"
Exterior diameter : 93mm / 3.65"
Thickness : 23mm / 0.91"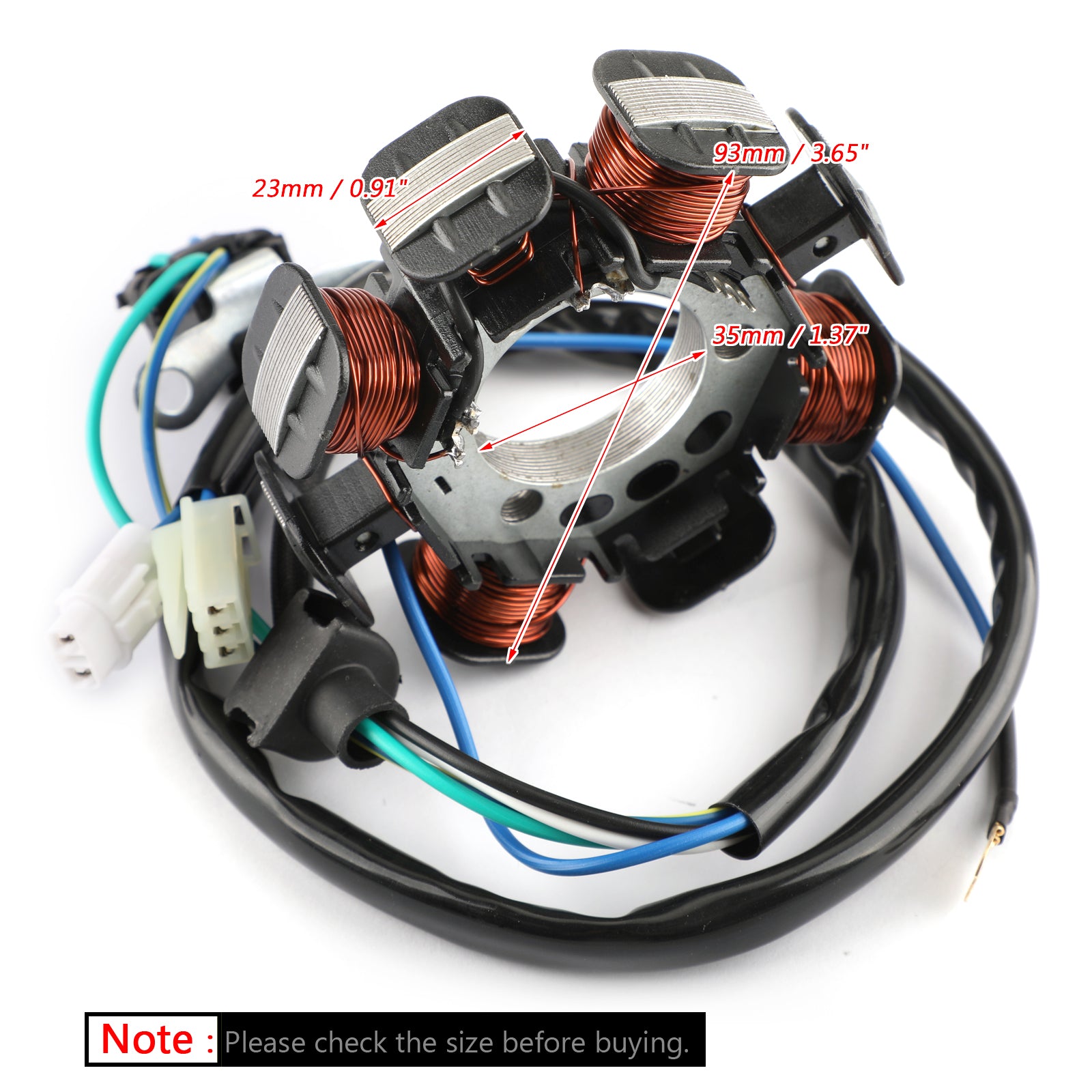 Other specifications :
Number of wires: 5
Number of pins: 5
Number of plugs: 2
Number of fixation holes: 3
Fitment:
For Yamaha TTR230 TT-R230 2005-2017
Package:
1x Generator Stator Coil
Note:
Before installing your new stator
1.Check the AC output of the stator.
2.Replace any burned or corroded connectors on stator and regulator/rectifier.
3.Check and repair any melted wiring.
4.Use hi-temp dielectric grease on all connectors
5.Our stator may use a different wire color code than your original.
6.All of the wires are installed in the correct order; please do not change any of the wiring configurations.
7.This stator is designed as a direct plug-in replacement and should be used as such.
8.When bolting stator in, always use locking compound.
9.If our stator includes a pickup coil, always make sure the air gap is correct upon installation.
10.All item pictures are accurate; if in doubt do not hesitate to compare our item to your original part.
Shipping:
Free Shipping
Delivery Time: 2-6 working days
Warranty:
Returns: Customers have the right to apply for a return within 60 days after the receipt of the product
24-Hour Expert Online: Solve your installation and product problems
Good product
I priced this product at a Yamaha dealer and they wanted $150 for the part alone. I installed the stator assembly and now my Yamaha alive again! i think i will order one more.