Description
FEATURES:
Aftermarket Starter Relay Solenoid.
In most cases this is a direct bolt on part.
HOWEVER you made need to modify the mounting position and the wiring connections to allow it to work on your Motorcycle.
Rubber shell protection against leakage damage.
Stable characteristics, high reliability.
High class quality and very durable.
Mounting bracket NOT included,Installation Instruction NOT Included.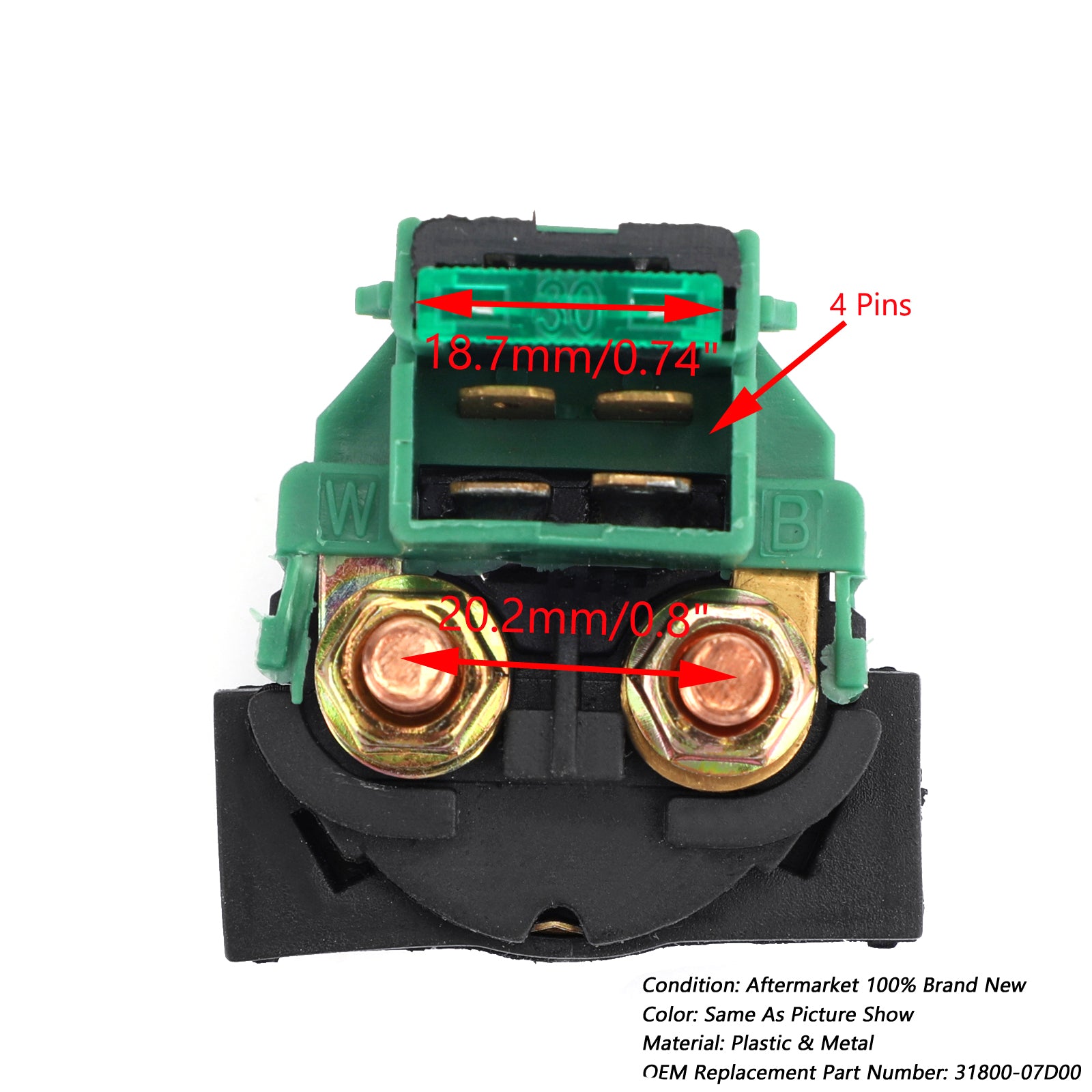 SPECIFICATIONS:
Condition: Aftermarket 100% Brand New
Color: Same As Picture Show
Material: Plastic & Metal
OEM Replacement Part Number: 31800-07D00
FITMENT:
For Bombardier DS650 Baja 2002
For Honda TRX500FA Rubicon 4x4 2001-2004
For Honda FL250 Odyssey 1977-1984
For E-ton YXL150 Yukon 2000-2001
For Cannondale Speed 2002
For Kawasaki KAF300 Mule 500
For E-ton-AXL50 1999-2004 2003
For Kawasaki KAF950 Mule 2510 Diesel
For Honda CB750 Custom 1980-1982
For Honda CB650 Custom 1980-1981
For Yamaha YTZ250 Tri-Moto 1985
For Yamaha YFM80 Badger-1985-198?8
For Yamaha YF60 Moto-4 1986
For SUZUKI LT-F500 Quadmaster 2000-2001
For SUZUKI LT-A500F Vinson 2002-2004
For Polaris Trail Blazer 250 ES 1996-1997
For Polaris Big Boss 250 4x6 1989-1992
For Polaris Scrambler 400 4x4 1995
For Polaris 250 2x4 1993
For Kawasaki KVF360 Prairie 360 2003-2006
For Kawasaki KSF400 (KFX 400 Sport) 2003-2004
For Polaris Scrambler 380 2x4 2000-2001
For Honda Goldwing GL1200 1984
PACKAGE INCLUDED:
1x Starter Relay Solenoid
Installation Instruction NOT Included
TESTING PROCEDURE:
Make SURE the Motorcycle is in NEUTRAL!!! Even with the ignition OFF!
Before pulling an old solenoid off a Motorcycle, you can test it.
Applying 12 volts to the two wires inside the plastic connector, the solenoid is polarity sensitive.
Applying 12 volts in the wrong polarity doesn't hurt the solenoid, it simply won't work.
When the 12 volts are applied to the two small wires correctly:
If the starter cranks, the solenoid, the battery and the starter are all good.
If the solenoid makes an audible click sound but your starter doesn't crank, the solenoid is good.
Shipping:
Free Shipping
Delivery Time:2-6 working days
Warranty:
Returns:Customers have the right to apply for a return within 60 days after the receipt of the product
24-Hour Expert Online:Solve your installation and product problems
Payment & Security
Your payment information is processed securely. We do not store credit card details nor have access to your credit card information.