Description
FEATURES
:
In most cases this is a direct bolt on part.
HOWEVER you made need to modify the mounting position and the wiring connections to allow it to work on your Motorcycles.
Rubber shell protection against leakage damage.
Stable characteristics, high reliability.
High class quality and very durable.
Mounting bracket NOT included,Installation Instruction NOT Included.
SPECIFICATIONS:
Condition: Aftermarket 100% Brand New
Color: Same As Picture Show
Material: Plastic & Metal
OEM Replacement Part Number: 36100-MN4-008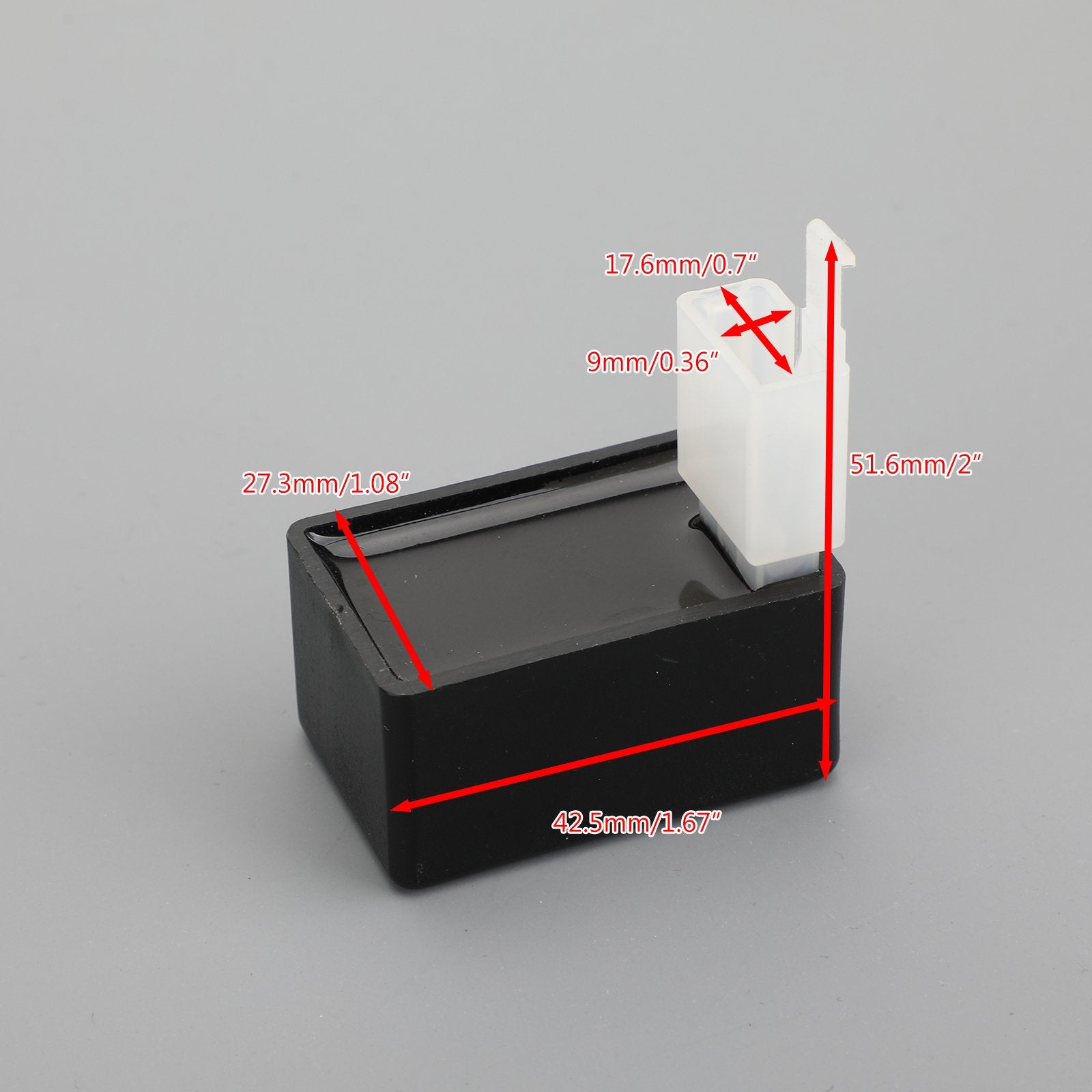 FITMENT:
For Honda VRX400 T (NC33) 1996
For Honda NV400 CJ/CK Steed 1992-1993
For Honda NV400 CS/CV Steed 1995-1997
For Honda NV400 DCY/DC1/DC2 (NC40) Shadow Slasher 2000-2002
For Honda NV400 Shadow 400 1995-1997
For Honda NV600 Shadow 1993-1994
For Honda VT600 Shadow VLX Deluxe 1993-1998
For Honda VT600 Shadow VLX 1993-1997
For Honda NT400 Bros (NC25)
For Honda NT650 J/K/L Bros 1988-1992
For Honda NT650 Deauville 1995-2005
For Honda NT650 Hawk GT 1988-1991
For Honda NTV600 Revere 1988-1992
For Honda NTV650 Revere 1988-1997
For Honda CBR600F Hurricane 1987-1990
For Honda CBR600F 1995-1998
For Honda CBR600 CBR600F4 1999-2000
For Honda CBR600SJR 1996
For Honda PC800 1989-1998
For Honda VFR750F Interceptor 1990-1997
For Honda VT750C/CD/CD2/CDA/CDB/CDC/CDD Shadow ACE/Deluxe 1998-2003
For Honda VT750 DC/DCA/DCB Shadow Spirit 750 2001-2007
For Honda VT1100C Shadow 1100 / Spirit 1994-2007
For Honda VT1100C2/C2-2/D2 Shadow ACE 1995-1999
For Honda VT1100T Shadow ACE Tourer 1998-2001
For Honda VT1100C2 Shadow Sabre 2000-2007
For Honda VT1100C3 Shadow Aero 1998-2002
For Honda VTX1300S Retro 2003
PACKAGE INCLUDED:
1x Fuel Gas Cut Off Relay
Installation Instruction NOT Included
TESTING PROCEDURE:
Make SURE the Motorcycles is in NEUTRAL!!! Even with the ignition OFF!
Before pulling an old solenoid off a Motorcycles, you can test it.
Applying 12 volts to the two wires inside the plastic connector, the solenoid is polarity sensitive.
Applying 12 volts in the wrong polarity doesn't hurt the solenoid, it simply won't work.
When the 12 volts are applied to the two small wires correctly:
If the starter cranks, the solenoid, the battery and the starter are all good.
If the solenoid makes an audible click sound but your starter doesn't crank, the solenoid is good.
Shipping:
Free Shipping
Item location:Los Angeles Warehouse
Shipping Time:2-6 Working Days

Warranty:
Returns:Customers have the right to apply for a return within 60 days after the receipt of the product
24-Hour Expert Online: Solve your installation and product problems
Fuel relay
got my part in a timely manner hooked
it up and it worked immediately...thanx
Payment & Security
Your payment information is processed securely. We do not store credit card details nor have access to your credit card information.