Description
Description:
Traditional 7 speed shift 24" 3 wheel adult tricycle cruise with basket. High tensile steel frame, TIG welded, alloy single crank with steel chain guard, and front and rear alloy brakes. Ultra low 15-3/8" step through design, easy reach cruiser handlebars and cruiser stem. This adult tricycle can safely and smoothly get you where you need to go.

Feature:
1. 24"size wheel: suitable for man ,woman,elderly people.
2. There wheels: more safe and stable.
3. A larger basket : carry things, more convenient for shopping.
4. Seat back : generously filled for extra comfort and softness.
5. No need fuel: environmentally-friendly and economical.
6. Adjustable handlebar: suitable for man and woman in different height.
7. Fenders on wheels: keep the tricycle clean.
8. Wheel Come with reflecting strip: provide a rider with the security to a greater degree even through ride in the evening.
9. Seven Speed Shimano Drivetrain: Flexible rear derailleur allows you to change speed freely and easily in case of any emergency. Shimano 7-speed free wheel and shifter included also.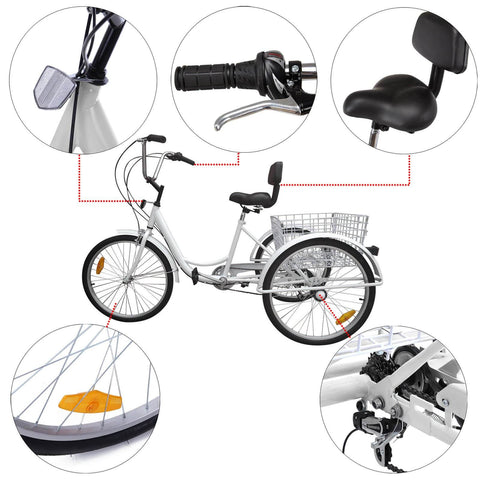 Specifications:
Age: Adult
Weight: 27kg
Bearing Weight: 120kg
Seat minimum height:  65cm 
Seat adjustable height: 20cm 
Tricycle body Color: white
Large, soft comfortable saddle: 9" x 9"
Chrome steel handlebar: 26" Wide x 9" Rise
Basket Size: 22.4" x 18.5" x 11"
Basket Color: White
Wheel Material: rustproof alloy
Spokes Material: stainless steel
Frame Material and Type: Aluminum Tricycle cruiser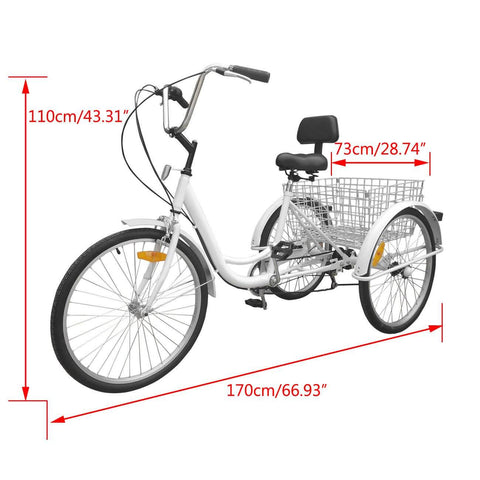 Package Included:
1x White adult tricycle
1x Backrest
1x Basket
Free Fast Shipping:
Item location: USA, AUS
Shipping To: USA, AUS
Delivery Time: 3-8 working days

Warranty:
Returns: Return within 14 days after receipt of the product
24-hour expert online: Solve your installation and product problems
Easy to install and high quality
Received the goods five days after placing the order,easy to install and high quality
Payment & Security
Your payment information is processed securely. We do not store credit card details nor have access to your credit card information.